What made players like Michael Jordan, Sachin Tendulkar, Muhammad Ali different from others? Of course they were incredibly talented. But was it only the physical aspect of their game which made them stand out from their competitors?
The one thing which made them much more superior to others was their mental attitude and approach to the game. They knew that half the match was decided even before it started: in their head. All great athletes need to have a top mindset which would ultimately determine their journey. The great Michael Jordan once said: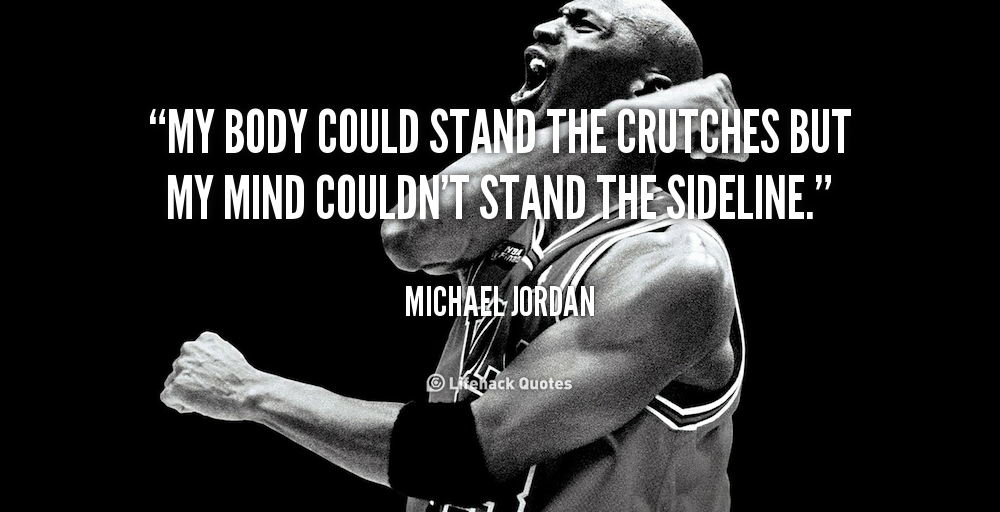 Players like MJ had an elite mindset which would keep them always focused to the task. The late Kobe Bryant was famous for his 'Mamba' mentality as he was always the hardest worker in the room and made him the player he was. In this blog, we will understand what is sports psychology, and why is it so important.
Let's start!
What Is Sports Psychology?
In simple terms, sports psychology is the study of psychological factors that influence an athlete's performance, and how mental health plays a big role in an athlete's life. 
Everything that goes on in the mind of not only an athlete, but their team, coaches, family falls under sports psychology. This field is concerned with the mental element involved in sports, often which is overlooked.

Importance Of Sports Psychology
Sports psychology can be used to enhance an athlete's performance by helping with stress management, increasing motivation, anxiety control, mental toughness, etc. It also helps with injury rehabilitation, team building, burnout, career transition, etc.
There are trained professionals who take up this role to help athletes and are professionally called as sports psychologists. Sports Psychology can be used for:
Better Performances
Motivation and Feedback
Recovery and Rehabilitation
Overall well-being
In recent times, the biggest and best example of the importance of psychology in an athlete can be seen in Virat Kohli. Kohli was having a really bad spell from 2020 and was barred by many as 'finished.'
He was extremely low on confidence and a comeback was looking very bleak for him, But defying all odds, he made an incredible comeback in the Asia Cup 2022 and the ongoing cricket World Cup. When the world wrote him off, he kept working hard and believed in his abilities. That is the mindset of a champion that makes him different from others.
There are numerous other examples where the mental element of an athlete has determined his faith in the game. The psychology of an athlete is so important for his overall performances. As long as sports are there, sports psychology will be a part of it.
Conclusion
We now know what sports psychology is and the importance of it. Apart from the usual coaching staff and medical team, all sporting organizations should have a team psychologist on-board who would work on the mental aspect of an athlete. The recent hit show Ted Lasso also beautifully showcases the importance of sports psychology in a team by their character Dr. Sharon.
Physical health and mental health go hand-in-hand. For complete well-being, one should focus on both. The importance of psychology in sports is very significant. A player who has a clear and healthy mind will always perform better than his opponent. We need to realize the value of sports psychologists and how they can help athletes improve their game.
So if you are someone who is interested in sports psychology and want to learn more about it, watch this space!
Frequently Asked Questions
1. What is the use of sports psychology?
Sports psychology is used at all levels to help athletes deal with pressure situations, recover from injuries, accept downfalls or slumps in form, etc.
2. Who can benefit from sports psychology?
The interesting thing about sports psychology is that it not only benefits an athlete, but it is beneficial for his team, coaches, family and everyone around him.
3. Which aspect does sports psychology focus on?
Sports psychology is concerned with the mental aspect of athletes, how their metal behavior change on and off the field
4. Who are some well-known sports psychologists?
Some famous sports psychologists who have made a mark for themselves are Coleman Griffith, Dr Alan Goldberg, Robert M Nideffer & Timothy Gallwey.
Some famous sports psychologists are Coleman Griffith, Dr Alan Goldberg, Robert M Nideffer, Timothy Gallwey, and many more.