Sunil Chhetri is an Indian professional footballer who plays as a center forward and captains the Indian football team at the national level, and Bengaluru FC at the club level.
Chhetri hails from a family of footballers and has carried the legacy to new heights.
On the auspicious day of Sunil Chhetri's birthday who turns 38 today, we have decided to analyze the fantastic career 'captain fantastic' has had, his milestone records, and how he has completely revolutionized Indian football.
Sunil Chhetri's Early Career
Sunil Chhetri started his professional football career with the famous Mohun Bagan Athletic Club in 2002 where he had a slow start. After this, Chhetri made a move to Jagajit Cotton & Textile Football Club (JCT FC) in 2005, where he scored 21 goals in 48 games.
Sunil represented the Indian football team for the first time while playing for the U-20 team in 2004. He then made his debut for the senior national squad in 2005, and since then he has never looked back.
This is when Sunil started to pick his form and was constantly in the limelight for his amazing performances. In 2007, Chhetri was awarded the All India Football Federation's (AIFF) Player of the Year for the first time.
Foreign Interest
Sunil Chhetri was sparking interest from a number of international clubs at this point. English club Leeds United were very close to signing him in 2008, but a move never materialized.
Sunil kept working hard and in 2009, another English club Queens Park Rangers (QPR) signed him for a three-year contract and a move was set. But as fate had it, Sunil was unable to make the move as he was denied a work permit by the UK government, since India was not in the top 70 of the FIFA world rankings.
So, Chhetri continued playing for Indian clubs and kept increasing his goal tally.
Overseas Career
Finally, in 2010, Sunil signed for America's Major League Soccer (MLS) team Kansas City. While he could not officially make a league appearance for them, Chhetri got to play against Manchester United, one of the world's best teams at the time.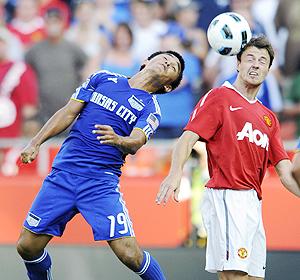 However, his stint at Kansas City didn't last long, and he returned to the I-league team Mohun Bagan in 2011.
Sunil Chhetri got another opportunity to show his skills at the international club level when he signed a two-year contract with the Portuguese team Sporting Lisbon B, the boyhood team of Cristiano Ronaldo.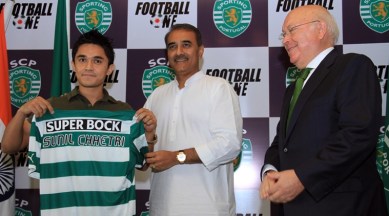 Sunil largely played for their reserve team and made a few senior appearances.
Back To India
After being released from Sporting, Sunil came back to India and joined Churchill Brothers on loan in 2013, then made moves to Indian Super League (ISL) clubs Bengaluru FC and Mumbai City. Since rejoining Bengaluru FC in 2015, Chhetri has been associated with them, captaining the squad and winning trophies. 
Sunil Chhetri's Achievements With The National Team
Sunil Chhetri has had a fabulous career with the Indian national football team. Chhetri helped India win:
Nehru Cup in 2007, 2009, and 2012
AFC Challenge Cup in 2008
South Asian Football Federation (SAFF) Championship in 2011, 2015, and 2021

Apart from this, Sunil has played a key role for India in World Cup qualifiers, AFC Asian Cup, etc. Chhetri has been India's best player for years now and there is so much that his man has done for Indian football.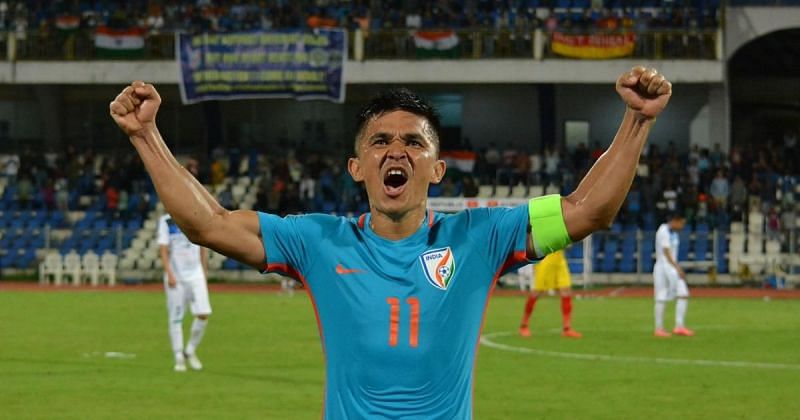 Let's have a look at some of the records he holds.
Top Records Held By Sunil Chhetri
While it is hard to summarize what all Sunil has done for the football culture in India, a country that lives and breathes cricket, we have tried to list down the major records that Sunil Chhetri currently holds:
He is the most capped player for India and has scored the most international goals by an Indian footballer.
With 84 goals, he is number 3 on the list of top active international goal scorers, only behind Lionel Messi and Cristiano Ronaldo.
He is the only Indian footballer to have played in 3 different continents- Asia, Europe, and North America.
He is the only player to win the AIFF Player of the Year award 6 times.
He has the most International hat tricks (3) by an Indian footballer, scoring against- Tajikistan(2008), Vietnam (2010), and Chinese Taipei (2018).
He is the highest Indian goal scorer in the I-League and ISL.
He has scored the most goals (19) by an Indian in the AFC competitions.

Conclusion
Apart from these records, Chhetri has been awarded the prestigious Arjuna Award by the government of India in 2011, for his outstanding achievements in sports. 
He also received the Padma Shri in 2019, the fourth highest civilian award. In 2021, Sunil Chhetri was presented with the Major Dhyanchand Khel Ratna award for his tremendous work in football.
Sunil Chhetri is a man who has dedicated his entire life to football, the sport he loves. He had a lot of hardships in his journey as India is still accepting football to be a part of its culture. Very little money is put into the sport by the government, and the footballers have to struggle a lot.
Even when we talk about the fan following, Indians prefer to follow European football as to Indian football which is still evolving.
Yes, India as a footballing nation is still far behind other countries, but we are making progress. The work which India's greatest footballers Sunil Chhetri and Baichung Bhutia have done and continue to do, cannot be ignored.
It is our duty as fans to support the Indian football team, and cheer for legends like Sunil Chhetri. We wish the Indian football team captain a very happy birthday and pray for his continued excellent performances.
Even though he has turned 38 now, his game is still of a youngster. If the quote "aging like fine wine" had a face, Sunil Chhetri would be on it!